PACIFIC REGION CADET LEADERSHIP SCHOOL
Over 100 Cadets from across CAP Come Together for Virtual
Cadet Leadership School
January 30th, 2021
Over the holiday break from Dec 26-31, 2020, 126 cadets and senior members from across the
nation participated in the virtual Pacific Region Cadet Leadership School (PRCLS).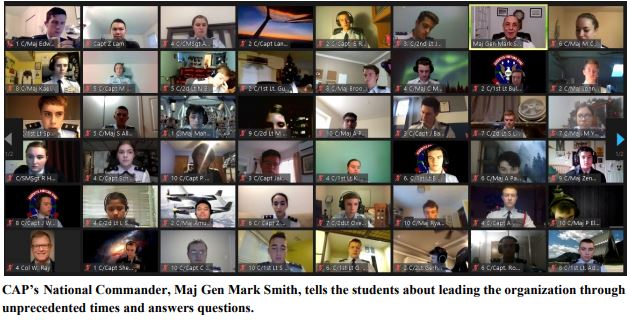 The Cadet Commander, C/Lt Col Bradley Gorham described the goal of PRCLS is to "develop
Phase III and IV cadet officers in the areas of leadership and character to empower them with the
tools necessary to be successful young leaders." This course is also required for cadets to earn
the Ira Eaker Milestone Award and the rank of Cadet Lieutenant Colonel.
While hosted by the Pacific Region, it was opened up to 100 students and 26 staff members from
all across CAP. A strong advertising campaign reached cadets from different 28 wings to attend
the activity, representing all eight regions and spanning seven different time zones. The broad
diversity in location, background, and experience brought many innovative and new ideas to
share among the cadet corps.
"Despite the many challenges of the virtual environment, being able to network with other Cadet
Officers and having a shared challenge to overcome gave us the motivation and drive to push
through the long days," commented one of the students, C/Capt Josiah Bailey from ORWG. "It
was the best experience of the past 10 months."
Daily instruction throughout the week was provided by top-notch instructors who were
knowledgeable and passionate about the topics they taught. The esteemed list of guest speakers
included the National Commander Maj Gen Mark Smith, National Vice Commander Brig Gen
Edward Phelka, Pacific Region Commander Col George Ishikata, Pacific Region Vice
Commander Col Christine Lee, Oregon Wing Commander Col William Ray, Maj Gen Mike
Worden (USAF Retired), two Air Force Group Commanders, and many others.
During the week, students were prompted to a higher level of thinking to identify a key challenge
in CAP and advocate for a solution. Many innovative ideas were proposed, which provided an
essential cadet perspective and will be passed along to the Cadet Advisory Councils to help
improve our program.
Making the best of the circumstances, the RCLS brainstormed what they could do in a virtual
environment that would be difficult in-person. Expanding the RCLS more than three times the
size that it would have been in-person and inviting high profile speakers from all over the
country were just two of the ideas. The best part was that the entire activity was operated on a $0
budget. All of the high-quality curriculum was offered to students at no cost. Personalized
graduation certificates were emailed to all the graduates for their use as well.
While CAP continues to innovate in trying to provide leadership opportunities for cadets, the
PRCLS served to meet this great need for cadet officers and NCOs across the nation. The quality
instruction and friendships formed at this school placed a lasting impact on many of the students
at the school.
Stay tuned for news and announcements about future RCLS opportunities!