Welcome to the Pacific Region
The Civil Air Patrol Pacific Region is made up of the six beautiful western states of Alaska, California, Hawaii, Nevada, Oregon and Washington. These six states comprise over one million square miles of territory, making the Pacific Region the largest of the eight regions in Civil Air Patrol.
CAP's Three Missions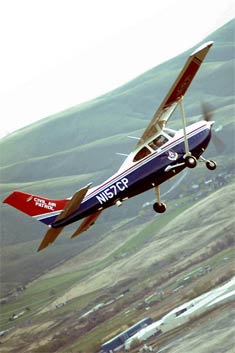 Each of these states (or wings) has its own headquarters, command structure, and many local or community level units of membership. The Pacific Region is very active in each of the Civil Air Patrol's primary missions of Aerospace Education, Cadet Programs and Emergency Services.
As the Air Force Auxiliary, Civil Air Patrol participates in numerous search and rescue missions, counter drug missions, and disaster relief missions each year. Because of an abundance of harsh terrain and high elevations, the Pacific Region is one of the most active regions in Emergency Services, saving numerous lives each year.
Civil Air Patrol has a very active, multi-faceted youth program – the CAP Cadet Program – and the Pacific Region supports some 3500 teenagers in the conduct of that program. These cadets participate in activities such as powered and glider flights, aerospace education, leadership and management education in an environment of self-discipline and self-responsiblility.
If you are interested in working with youth, in emergency services or in support of our country's homeland security and counter drug missions then consider Civil Air Patrol. Please visit www.gocivilairpatrol.com or link to your state (wing) CAP website to find the unit nearest you.
---
Highest Priorities for the Pacific Region
Practice integrity
Respect the individual
Appreciate each other's contributions
Believe in people
Help others succeed
Promote a sense of achievement
Maintain open communication
Reserve the right to make mistakes
Practice participative management
The above traits and attitudes are the basis for our successful practice of interpersonal relationships, goal setting, and accomplishments. They serve as reference points from which we can direct our CAP life. I invite you to adopt and follow them.


Col Brian Bishop
Pacific Region Commander