Colonel Edwards takes first flight as Bomb Wing Commander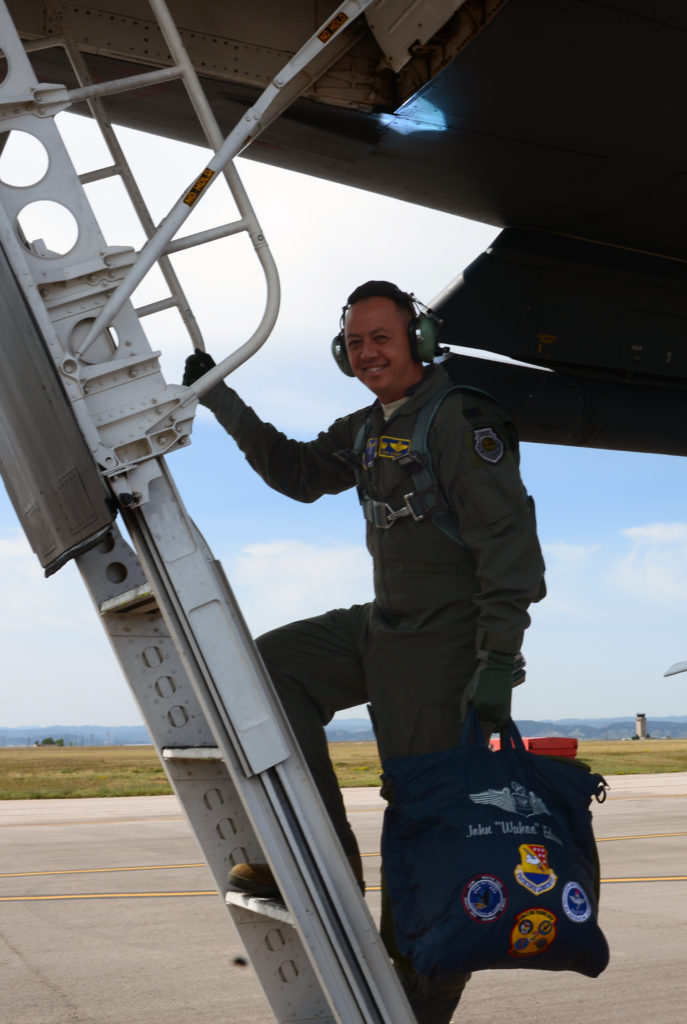 28th Bomb Wing Public Affairs
Story by Airman 1st Class Donald Knechtel
Friday, September 8, 2017
A young boy sits in the bleachers surrounded by hundreds of people, eagerly waiting. A hush falls over the crowd as the air stands still. Within a second the silence is shattered and replaced with the boom of roaring engines and thunderous applause.
The boy in the crowd, watching in awe of the majestic aircraft, was a young Col. John R. Edwards, now the 28th Bomb Wing Commander. Inspired by what he saw, he knew what he wanted to fly. While Edwards didn't immediately know it, this would eventually lead him down the path to the Air Force where he would follow his dreams and take to the skies.
"As a kid I always wanted to fly; since I was probably eight years old going to a few airshows," Edwards said. "The first one I remember was out at Andersen Air Force Base in Guam. It was truly awe inspiring and made an impact because I'm here today."
Now as the wing commander, Edwards took his flight in an Ellsworth, block 16 B-1 bomber, Sept. 6, 2017. This flight was one of many firsthand experiences to the 28th BW being able to support combat airpower – anytime, anywhere.
"Today's mission is detailed integration with some friendly forces on the ground inside the Powder River training complex airspace, where we are simulating performing close air support with the Air Force Joint-Terminal Attack Controllers to deliver weapons against an enemy target within that airspace," said Capt. Mike Costello, a pilot assigned to the 34th Bomb Squadron.
Costello went on to explain that practicing skills they will employ in the real world is fundamental for their job. It ensures their skills are sharp and that they are ready to roll.
"It's training like this, with actual guys on the ground that is so valuable for us," Castello explained. "I think it's really good to have Colonel Edwards see the heart of our training program and be able to participate in a high value training scenario like this."
The colonel's journey to this sortie started several decades ago. Edwards was a Civil Air Patrol Cadet, and under his family, learned the meaning of service.
Growing up the aspiring aviator wanted to serve his country like his family before him. With two uncles in both the Navy and Army, as well as having a Green Beret as a father, Edwards knew the military was the path for him as well. Though unlike his family before him, Edwards felt the Air Force would be his best opportunity to serve by doing what he loves…flying.
"Before I joined the Air Force, I was a Civil Air Patrol cadet in Hawaii, so I had a lot of exposure to flying beforehand," Edwards said. "The Civil Air Patrol was a great program and I really liked what we did."
During his time in the CAP, Edwards became a private pilot, yet the urge to continue his service to the country lingered. It was at this time he sought and received a scholarship at Air Force Reserve Officer Training Corps (ROTC) at the University of Hawaii. He graduated and received his commission in 1995.
The next year, Edwards earned his navigator wings and naval flight officer rating from Pensacola Naval Air Station, Florida, where he would eventually return to become the commander of the 479th Flying Training Group.
Although his main aircraft were the T-6 Texan II and T-1A Jayhawk, he ended up working with Ellsworth aircrews in Operation Allied Force, making connections with the wing he now commands.
"I've had some deployments with the B-1 throughout my career, in fact during their first major combat deployment as part of Operation Allied Force," Edwards said. "We were out there with the Ellsworth B-1s back in '99, and again during Operation Enduring Freedom in Afghanistan in 2001 to 2002, so I know a lot of the folks in the community."
Now, as the 28th BW commander, Edwards leads the B-1s he had worked with all those years ago.
Source: dvidshub.net | Colonel Edwards takes first flight as Bomb Wing Commander