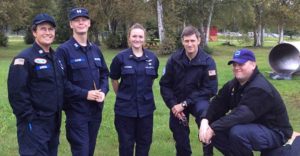 ANCHORAGE, Alaska
Five Civil Air Patrol members recently completed NASAR's Fundamentals of Search and Rescue training (SARTECH II), taught over the course of six days, which gave them wilderness SAR experience and elevated them to ground team leaders. Maj Sammons chose this class in his vision to develop a fast-reaction, highly-skilled ground team, similar to the Advanced Ground Teams found in other wings.
The SARTECH II level of certification is the intermediate level for SAR personnel. This level is recommended for any person who functions on SAR missions as field searchers. Topics included on the 145 question written portion of the exam include NIMS Incident Command System, Basic Survival, SAR Clothing, Improvising, Environmental Hazards and First Aid, SAR Ready Pack, Personal Equipment, Travel Skills, Land Navigation & Orienteering, SAR Resources, Search Philosophy, Search Tactics, Handling Evidence, Clue Consciousness, Search Operations, Tracking, Ropes & Rescue Equipment and Legal Aspects for the Searcher. The candidate's performance of SAR skills is evaluated at practical exam stations involving land navigation, tracking, rope skills, route search, and area search.
Sponsored by the Alaska Search and Rescue Association, the course was taught by Jeremy Lilly, a retired USAF Survival Evasion Resistance Escape (S.E.R.E.) Specialist with 28 years of military service including 9 combat deployments. In addition to his military experience Jeremy has over 30+ years of civilian Search and Rescue (SAR) and remote emergency medicine experience. See Jeremy Lilly's Bio
The National Association For Search And Rescue (NASAR) has been in existence since 1972. Originally started to represent the State Search and Rescue Coordinators, NASAR grew to represent all SAR volunteers and continues to support the State Search And Rescue Coordinators Committee (SSARCC). NASAR uses standards developed by ASTM, NFPA, DHS, FEMA, and other respected bodies to build education courseware, publications, and certifications. Government agencies and non-profit Search And Rescue Teams use NASAR's material and certifications to build credentialing programs for their organizations and produce highly skilled searchers that work within their communities and are available for mutual aid regionally and nationally.
Civil Air Patrol, the official auxiliary of the U.S. Air Force, is a nonprofit organization with 58,000 members nationwide, operating a fleet of 550 aircraft. CAP, in its Air Force auxiliary role, performs about 85 percent of continental U.S. inland search and rescue missions as tasked by the Air Force Rescue Coordination Center and is credited by the AFRCC with saving an average of 70 lives annually. Its unpaid professionals also perform homeland security, disaster relief and drug interdiction missions at the request of federal, state and local agencies. The members play a leading role in aerospace education and serve as mentors to more than 24,000 young people currently participating in the CAP cadet programs. Performing missions for America for the past 73 years, CAP received the Congressional Gold Medal in 2014 in honor of the heroic efforts of its World War II veterans. CAP also participates in Wreaths Across America, an initiative to remember, honor and teach about the sacrifices of U.S. military veterans. Visit capvolunteernow.com for more information.